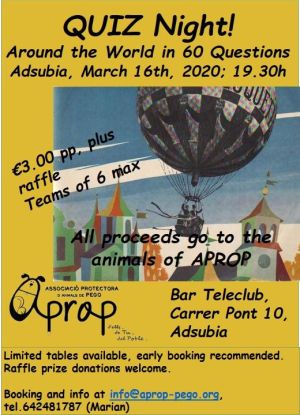 Finally a new quiz night! March 16th, 19.30, in Bar Teleclub, Carrer Pont 10, 03786 Adsubia. The quiz has an international feeling to it, as the questions go around the world. 
Reserve your table soon, as there are limited places available.
Reservations: This email address is being protected from spambots. You need JavaScript enabled to view it., or by telephone (whatsapp) +34 642481787 (Marian)
Raffle price donations, preferably food related, are more than welcome!
Of course, all proceeds will go APROP cats and dogs.
We´re looking forward seeing you there!