FROM LAPS TO APROP - A JOURNEY
For those volunteers and supporters who would like to know how we developed and evolved, I thought a little back ground information might be helpful.

The Local Animal Protection Society (LAPS) was started in Pego by Chrissie Edwards in 2008. She had already been raising money for abandoned animals through the Bookstall on the weekly Thursday Market in Pego. Chrissie began by selling a few second hand books in July 2003 because she saw the awful plight of so many feral cats and abandoned dogs on the Monte Pego Urbanisation. The bookstall became a focal point at the weekly market for the influx of foreigners eager for books in the pre Kindle era! The funds raised were used to help with vet bills and for food. Chrissie soon realised that the animal problem was growing along with the demand for funds and a network of volunteers.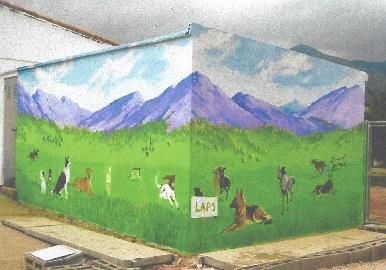 So, in 2008 LAPS became a registered charity with it's own website and regular fund raising events. Along with the abandoned animals, Chrissie also donated funds to help the residents of the St Juan de Dios residential home in the centre of Pego. She provided them with furniture, TVs and exercise equipment among many other donations.
In 2010 a suitable plot of land was found to rent and building work started on dog kennels and a cattery. It was originally planned that only a few kennels would be needed because Pego Ayuntamiento had a contract with the Brigada Azul , a larger animal sanctuary in Alicante. They collected dogs and cats that hadn't been re-homed once a month, enabling LAPS to take in more abandoned animals. Chrissie estimates that in the years before LAPS was formed she helped some 200 dogs and numerous cats. Then during the 9 years of LAPS she has recorded 1,343 dogs and some 600 cats were rescued. Along with various other animals rescued were a goat, a ferret, a fox and turtles!

During 2011, 11 artists from the Rafol Painting for Pleasure Art Club visited the sanctuary some 13 times over 5 weeks (180 man hours) to paint the colourful mural on the walls of the kennels. Several of the dogs featured are animals that were rescued and re-homed by LAPS. The artists did comment that it would have taken a lot less time if they hadn't needed to continually retrieve their brushes from the dogs!

The basic running costs for LAPS were over 2,000 Euros a month and so it's estimated that a minimum of 250,000 Euros were raised during these 9 years. In 2016 Chrissie handed over the reins and APROP was formed. Efforts were made to buy the land, either privately or through the Ayuntamiento, but hopes of moving to a more suitable site were constantly dashed. The situation remains that we wait for Pego Ayuntamiento to provide a suitable plot of land.
So, a big thank you to Chrissie Edwards and all the volunteers who provided much needed care to the abandoned animals in those formative years.