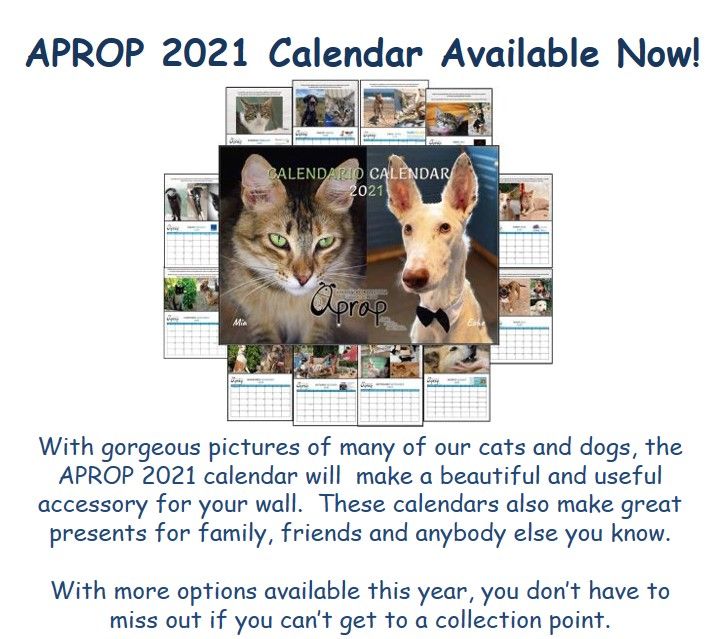 ORDER ONLINE & WE WILL POST IT TO YOU
Mainland Spain: €10 each (including postage)
UK and EU: €15 each(including postage)
The stories behind the APROP 2021 Calendar pictures
January - celebrating black

The phrase "Black Lives Matter" was topical in 2020.  This is just as true for dogs and cats as people.  Black dogs and cats are much less likely to be adopted than animals of different colours.  This may be because they just don't stand out as much as animals with lighter coats; but in our social media world, black dogs and cats do not photograph as easily as other colours, which, to many, makes them less attractive. In Spain, black cats are considered unlucky, unlike in the UK and some other countries, where they are considered to be lucky.  But underneath their black coats, these animals are as loving, intelligent and as much in need of help and homes as any other dog and cat.

Marmite and Santini are still at APROP waiting to be adopted but, happily, Bamba was adopted just this month.

February – our long stay residents

We try to find homes for all of the cats that come to APROP, but sometimes because of health or social reasons, this is unlikely to happen.  Conan is one of the cats who has been at the shelter for a long time now and will probably never leave.  He is rather a majestic looking cat.  He is healthy and gets on well with other cats, but is not a fan of being touched by people.  This makes his adoption chances very limited and, because he has been institutionalised for so many years, it doesn't seem fair to put him outside to fend for himself in the feral colony.  So it looks like Conan is here to stay. 

Money raised from calendar sales will help to look after Conan and the other long stay residents at APROP.

 

March – our greatest joy

Nothing makes the volunteers at APROP happier than when one of our residents is adopted.  This is even more joyful when the cat or dog has had a tough life or has been at the shelter for a long time. 

Hector, a young German Wire Haired Pointer, was left in the outside kennel at APROP.  We were sure someone would claim this stunning boy, but nobody came forward.  Three months later Hector was adopted and travelled to be with his new family in the UK where he is enjoying life to the full.

Martina was found living in an abandoned house and we quickly discovered that she was a "bit of a character".   She would love you one minute and then would swipe at you with her claws for no apparent reason.  For a while this diva lived in the entrance corridor of the shelter, welcoming visitors with a purr or a swipe and loved and feared by everyone.  Then she had an unfortunate accident which left her quite badly injured.  She was taken into foster care to convalesce and she never left.  I would like to say that she is now a reformed character in her new home, but apparently she is still just the same, but loved anyway.

Money raised from calendar sales means that APROP can continue finding homes for dogs and cats (even the grouchy ones).

 

April – the benefits of fostering

Olivia is an eight year old podenca, a Spanish hunting dog.  She was rescued from the streets where she had been surviving by herself for some time.  She arrived at the APROP shelter terrified of all things human, but after some time, gained enough confidence to join the play of the other dogs.  Slowly she started to gain a little confidence with some of the volunteers and would tentatively approach with a tail wag, but would still be very nervous of anybody or anything new.  To build her trust and confidence she started to stay for weekends at the homes of volunteers, where she could interact with people and other pets in a household environment.  This had a double benefit: Olivia became accustomed to normal life and her foster carers fell hopelessly in love with her.  They are now all living happily together.

Nina was brought to APROP by her owner for her protection, because Nina's two siblings had been killed by local dogs.  Although tame to her owner, she was terrified and anti-social in the cattery.  She was frightened of the other cats and people, which made her life a misery.  As a last resort she was placed into foster care, where a miraculous change occurred.  Fairly quickly Nina turned into a loving, confident cat.  She now lives a jet set life, commuting with her family, who adore her, between Spain and Sweden, and we enjoy seeing pictures and videos of her adventures.

Some animals will never be happy or show their true nature and character in a shelter environment.  Being in foster care, where they can receive individual care and attention in a home environment, can make so much difference.  The downside of being a foster parent is that it is hard not to fall in love, and even harder to give the animals away to a permanent home for adoption.  But fostering saves lives and we are so grateful to those who are able to do it.

Money raised from calendar sales means that APROP can continue to fund our fostering programme.

 

 

May – fostering kittens and puppies

Fostering a small kitten or puppy may sound like a fun thing to do, but the sad reality is that many kittens and puppies are abandoned and found in terrible condition.  It is often a question of life or death, and the specialist knowledge and dedication that some of our foster carers have in dealing with very young and delicate babies is amazing.  The shelter is no place for very young puppies and kittens who need regular feeding throughout the day and night and continual monitoring to ensure their health and development.  We are totally reliant on these fostering heroes who often also go on to find permanent homes for their charges so that they do not have to come to the APROP shelter at all.  THANK YOU!

Money raised from calendar sales means that APROP can continue fund our fostering programme.

June – Animals with health issues

Many animals that come to APROP have health issues.  In particular, Feline HIV and Leukaemia is endemic for cats, and Leishmaniasis, a disease transmitted by a small biting sand fly, is prevalent in dogs in Spain.  Animals with these conditions often will have long, happy lives if they receive the appropriate treatment and care, but finding homes for them can be problematic.

Traca has been at APROP for over three years now.  For the first couple of years she was very suspicious of people and never left the shelter as she refused to have a collar and lead attached.  After months of gentle encouragement, she is now coming out of her shell… she has even been for a few walks (on a long lead), and seeks out and accepts human touch.  She also has a heart condition that needs medication… we feel she is ready for her next step, which is to live life outside the shelter, in a real home.

Beautiful Nelo was abandoned in Pego and, when tested, was positive for FIV.  Previously it was thought that FIV cats had to live separately from other cats and, because of this, many shelters had a policy of putting these cats to sleep as they were too difficult to place. However, it is now known that FIV-positive cats can live with FIV-negative cats and not pass on the infection during normal day-to-day interaction.  Most infection transmission happens when cats fight and sterilisation of male cats reduces the likelihood of this happening.  Lucky Nelo was adopted by a lovely lady in the UK.

Money raised from calendar sales means that APROP can continue to treat animals with long term health issues and, hopefully find them homes.
 
 

 

July – special training

Some of the dogs that come to APROP have had difficult lives and, as a result, have behavioural issues.  In many cases, normal interaction and training can resolve this, but in some extreme cases a more intensive solution is necessary.  APROP has forged relationships with other organisations, both locally and nationally, which have benefitted dogs like Yogi, Pirata and Bunjee. As a result of engaging with more intensive assessment and training programmes, Yogi is now living his best life in Devon, UK: Pirata is now living his best life in Nottinghamshire,UK and Bungee is living his best life, more locally to Pego.

Money raised from calendar sales means that APROP can continue to utilise specialist assessment and training organisations to ensure that dogs with challenging behaviours have the best chance of finding their forever home.

 

August – older animals

It is always sad when an older animal comes in to the shelter, often because their owner has died or become ill.  It is a confusing and frightening experience for them.  Not everyone is willing to adopt an older dog or cat, but older animals usually make excellent adoptees, being used to living in a home and settling into their new environment quickly.

Katy came to the shelter about 18 months ago with her companion Choco.  She is an outside sheepdog, who just loves human touch and is happy with her walks and hanging out with Choco. She is about 8 years old now and would love a home where she (and hopefully her companion) can live together outside being shepherd-type dogs!

Money raised from calendar sales means that APROP can continue to take in and care for older animals and hopefully find them a home for the rest of their lives.
 
 

 

September – play and stimulation

Imagine living your life in a shelter.  It could be pretty boring, and that could make you very depressed and unhappy and possibly unhealthy.  That's why it is so important that we provide as many opportunities as possible for APROP dogs and cats to have exercise, play and stimulation.  The volunteers who walk the dogs each day and play with them are an important part of this.  The dogs love getting out and some of them are lucky enough to get to the marshes or the beach sometimes, both of which are close to the shelter.  In the cat side we created a new team of volunteers this year who are dedicated to spending time with the cats, playing with them, socialising them and assessing their behavioural needs.  But sometimes making a shelter animal happy and interested is as simple as giving them a cardboard box, a cat tree, a teddy bear or a tennis ball. 

Money raised from calendar sales means that APROP can continue to buy toys and equipment to offer variety and stimulation to the animals.

 

 

October – the volunteers

Quite simply, without the volunteers the shelter would not exist.  Nobody gets money for working at APROP.  The only payment anybody gets is the love of the animals and the knowledge that we are helping animals who can't help themselves.  But there are other benefits of volunteering at APROP.  It's also about the people.  Spending time with a multi-national team of like-minded individuals, friendships are formed between people as well as between animals and people.  There is a lot of laughter and fun times.  But there are also challenging times: dealing with sick or abused animals, cleaning kennels and pens in the heat of summer or walking dogs in the pouring rain.  But the good experiences outweigh the bad.   And seeing happy, healthy animals, particularly when they go on to new homes, is priceless.

Money raised from calendar sales means that APROP can continue to look after animals in need.

November – dogs rescued from the streets

Brave was rescued from surviving around the orange groves of Pego. A team of dedicated volunteers took two months to track his movements, establish a feeding routine, and eventually were able to capture him and bring him to the safety of the shelter. He has been with us for 8 months now and is an absolute charmer and would be ideal for an active family. Money raised from calendar sales means that APROP. can continue to rescue animals from surviving on the streets, ensure they are healthy, fed and loved and ready to find their forever homes.
 

 

December – feral cats

There are a group of about 16 cats that live outside the shelter.  Although we call them "ferals", some of them are quite tame, and two or three appreciate a stroke and a cuddle occasionally.  We provide sleeping boxes for them, feed them daily and also ensure that they are sterilised and get medical attention if they need anything.  We don't always know where they come from, sometimes they just appear, or occasionally we move cats here from other places in the Pego area where they may be in danger from traffic or people.  Feral cats are a problem in Spain.  There are many colonies in the Pego area, often fed by kind people, but they are not appreciated by everyone.  APROP has recently been running a trap, neuter and return programme in the Pego area, which was funded by the Pego Council in an attempt to slow the growth of these colonies of cats.  Sterilisation is the most important message to get across to people who own cats.

Money raised from calendar sales means that APROP can continue to look after and sterilise cats in the Pego area.